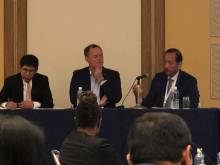 Public Auditor Speaks at Capacity Building Committee Meeting
Discusses Guam's Experience with SAI Performance Measurement Framework
Press Release - Public Auditor Speaks at Capacity Building Committee Meeting
July 3, 2019
Hagåtña, Guam – Public Auditor Benjamin J.F. Cruz was a featured keynote speaker at the 2019 Meeting of the INTOSAI Capacity Building Committee being held in Tokyo, Japan on July 1-3, 2019. The theme of the three-day meeting was "exploring our capacity to support SAI [Supreme Audit Institutions] professionalism" and touched on topics such as the need for independent SAIs, competent people, implementing standards, measuring performance, continuously improving, and facing future challenges.
Representing the Pacific Association of Supreme Audit Institutions (PASAI) along with Cruz was PASAI Secretariat Tiofilusi Tiueti. In his presentation, Cruz shared Guam's experience with the Strategic Plan the office released in January 2019 and in receiving the results of the SAI Performance Measurement Framework that was released in March 2019.
"In March of this year, my office released the SAI Performance Measurement Framework that assessed our operations and performance. We received excellent feedback, in areas we are performing well and in areas in need of improvement. We applaud the efforts of the team that assessed our office. In an effort to uphold my credence of transparency, I did not think twice about releasing the report publicly. I later learned not many SAI's have shared their results with their stakeholders. I call upon my colleagues to uphold transparency by publishing your respective SAI PMF assessment reports," remarked Cruz.
Travel expenses for this meeting were self-funded by the Public Auditor.
Photo Credit: Pacific Association of Supreme Audit Institutions

Press Release - Public Auditor Speaks at Capacity Building Committee Meeting